CATERING
Meals available 365 days a year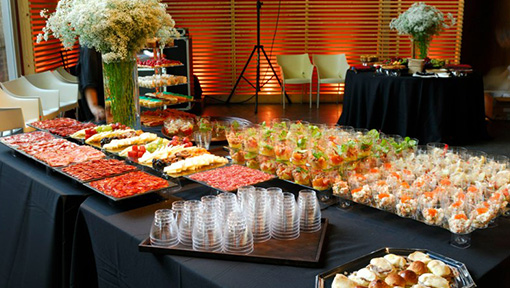 Our company specializes in catering for all kind of events, business tourism and bussiness events for many people. Our business philosophy is based on dishes made with high-quality products with a nice visual staging that always surprises.
The cuisine of Universitas is a wide range of proposals based on the healthy Mediterranean cuisine with modern overtones. Maximum flexibility and constant innovation enable us to guarantee success in service execution.
We also have our own spaces of great versatility located in different geographical places of Barcelona perfect for all kind of events. You can see all the information about them in the restaurants page of our website.
EVENTS
In Universitas have extensive experience in organizing events, both in our own sites and others, allowing us to offer a professional service of high quality for the MICE sector. Thanks to that experience we can deliver the solutions, services and spaces that best suit the characteristics of each event.
Universitas exclusively manages different big versatil areas, as the WTC Almeda Park, more than 3,000 m2, both interior and exterior or 1200 m2 in the Barcelona district of Les Corts, just 200 meters far from the Camp Nou. They are just two examples of the many centers of the brand. The full list of additional information is available here.
If the event requires open spaces such as terraces and gardens, ideal for celebrating cocktails or classrooms equipped with the latest audio and video technologies for conferences and conventions, Universitas has different locations in which it could be celebrated.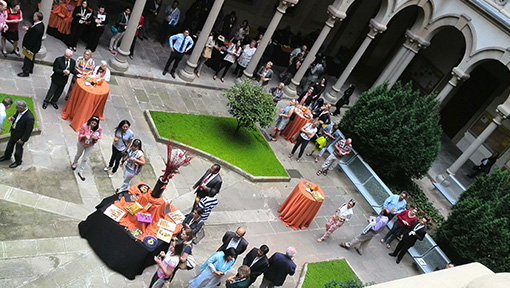 Our catering service is available on all our restaurants, which means for Universitas events a significant added value: minimizing logistics and optimize the service.
Our solid experience in the field of collective restoration and the high qualification of our team allows us to offer all kind of catering services.
You can ask us for coffee breaks, appetizers, brunch, after work, and services for lunch and dinner for all kind of events, exclusive or with big confluence of people.
Find here our appetizers, coffe-breaks and brunch.
Universitas offers spaces that can host celebrations for up to 4,000 people and are completely customizable to the specific needs of the same.
We also provide reserved spaces for group dinners, which require prior confirmation and are limited to groups of 70 to 200 people.
These are just some of our proposals, but will be happy to offer customized solutions for any event you want us to organize.